Halloween might be the favorite event of everyone young but choosing the perfect outfit can be quite challenging at times. Since Halloween is just around the corner, you must be wondering what costumes might be the best for you or your kids this year. Picking out costumes and matching them is both time consuming and tricky. If you're looking for a costume that is easy-to-wear and completely hassle-free, we have got you covered.
A good choice for your Halloween costumes this year can be a onesie. A onesie is a single piece of clothing that covers your body from your head to toe. Onesies are very convenient, adorable and they never go out of style. Hence, they be sure to last you a long time. You can wear them at any age and you don't even have to worry about matching the top or the bottom with the rest of the outfit. Another option it allows you is to pair character costumes with your friends. For example, if you want to be dressed as Tom and Jerry, one person could be the cat and other can dress as the mouse. This will make your costumes stand out more as well.  Some reasons you should really consider getting a onesie Halloween costume are mentioned below.
Variety of designs and characters
One of the best things about onesie costumes is that you can literally find them in every design. Are you planning to dress up like an animal, a Pokémon character, a unicorn or someone spooky like a skeleton? The good news is that you can find these costumes easily too. Every character ranging from cute to scary may be available in onesies. If you want to be a racoon, a cat, a dog, a panda or even an alligator, you can easily find an animal onesie that suits your choice and the theme of your costume.  You can also get custom onesies made, although they might require some extra time. But that should not be a problem if you order them a month or two before Halloween.

Are very soft and comfortable
Spending a whole day in a tightly fitted costume can be both uncomfortable and tiring. Tightly fitted costumes may also cause itching and rashes on the skin. An advantage of onesies is that they are very comfortable. You can easily wear them the entire day without feeling the slightest discomfort. Most onesies are made from such soft materials that as soon as wear them, you feel like hopping into bed straight away. A cute animal onesie offers the same furriness from the inside as it appears to be on the outside. Whether you are planning to appear cuddly and cute dressed as an animal, or scare your fellows dressed up as a skeleton, with a onesie you can do so while being super comfortable.
Keep you warm in the chilly evening and night
As soon as the Halloween vibes start to kick in, so does the cold and chilly weather. Afterall, the chilly weather contributes to the spooky atmosphere of Halloween too. Aside from all the fun you plan to have, you need to make sure that you are not compromising your health. Make sure you dress up in something warm so you don't catch a cold. A onesie might be a good option here because it helps you keep your whole body warm. Since most of your body is covered and nothing other than your face, feet and hands are exposed, there are very less chances for you to get sick. Therefore, even if you're planning to dress up as a Pokémon that lives in the cold and exhales ice cold breath, you can easily pull it off while being warm and cozy from the inside.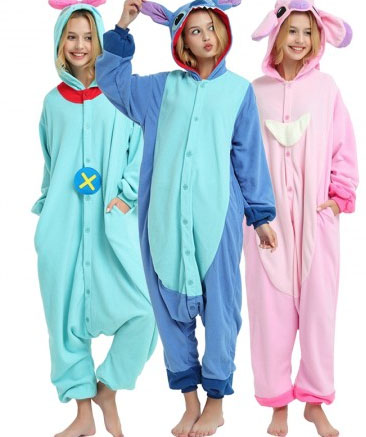 Easy to pick and hassle free
Picking the right pants that match the top can be a little difficult at times. If you fail at designing costumes properly, you might not be able to carry your costume confidently or get the best dressed award. A great thing about onesies is that they save you from all the hassle you go through to complete your outfit. All you will need to do is buy a onesie and you are done worrying about your outfit altogether.  Imagine getting dressed up as a Pokémon in a onesie without worrying about your top not matching with the bottom. All you will need to do to get dressed up is hop into your Pokémon onesie, put your shoes on and you are done. Since your head will also be covered with the onesie's attachments you won't have to worry about styling your hair or buying accessories either.
Fit all body shapes and sizes
When you are purchasing onesies as Halloween costumes, getting them in the right size or altered to fit you should be the least of your worries. This is because onesies fit all shapes and sizes. These one-piece suits are made from stretchy material that can fit all body sizes from thin to healthy. You'll have enough space to breathe, move around and be carefree wearing a onesie. Most onesies do come with side pockets as well, so you can easily put your belongings such as identification there. Of course, you also use them to stuff candy into your pockets once your trick 'o' treat basket has no more space for candies.
Conclusion:
In addition to the above-mentioned reasons, onesies are also a good choice because they don't go to waste. If you wear an animal, skeleton or unicorn this year and don't plan on wearing it again the next Halloween, then you can use that onesie as your sleeping suit. They offer the same comfort and easiness as your regular night suits – or maybe more. If you are looking for comfort and style, both in one, then make sure you try them out this Halloween. As soon as you get your onesies, we are sure you will fall in love with it and you won't regret this decision for a moment.